Welcome to Jaramogi Oginga Odinga University of Science and Technology Library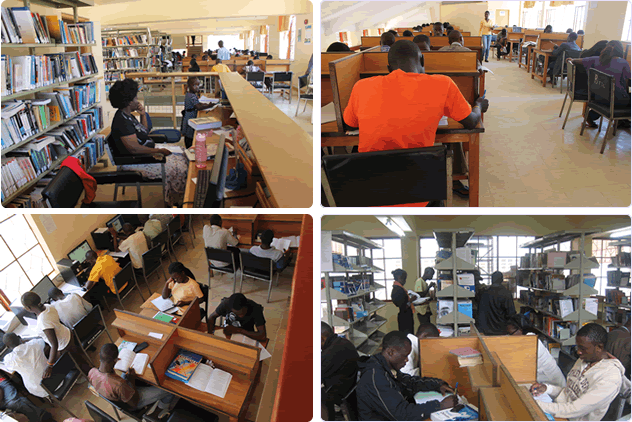 OPENING HOURS
MONDAY TO SATURDAY - 8.00 A.M. TO 10.00 P.M.
SUNDAY & PUBLIC HOLIDAYS -WE REMAIN CLOSED
Dr. Festus K. Ngetich
DPhil. (LIS), MPhil. (LIS) and B.Sc. (Information Science)
Message from the University Librarian
It gives me great pleasure to welcome you all to JOOUST Library website our premier virtual space for seamless service delivery whenever and wherever you are. Our dedicated library team is always ready and onsite to help you locate and access knowledge resources that you need.
The library continues to acquire both print and electronic knowledge resources that support the core business of the university which is teaching, learning, research and community outreach. Our electronic resources are accessible both on campus and off campus. We will continue to partner with our academic staff to ensure that the core and supplementary texts specified in all our curricula documents are acquired. We encourage our scholars to share their research outputs through open access technologies. We shall continue in our noble duty to impart information literacy skills to all our users to enable them access and utilize the large amounts of knowledge resources available on the web. We will continuously scan the technological environment to scout for new and powerful technologies that will enable our library users to benefit from knowledge discoveries of and beyond the 21st Century. I wish you an enjoyable and successful browsing and navigation but always remember that we are on standby to respond to your queries and troubleshoot any problems that might hinder you from accessing our knowledge resources.
Dr. Festus Kipkorir Ngetich, Ph.D., IFLA/OCLC Fellow, MKLA, MKIM
THE UNIVERSITY LIBRARIAN
 University Library - Staff Members
| | | |
| --- | --- | --- |
| Designation | Name | View staff profile (Biography, CV, Publications and Research Groups) |
| University Librarian | Dr.&nbspFestus&nbspK.&nbspNgetich | view profile |
| Deputy Univ. Librarian | Dr.&nbspPeter &nbspO.&nbspOtieno | view profile |
| Secretary | &nbspEdna &nbspK. &nbspNasimiyu | view profile |
| Senior Librarian | Mr.&nbspJapheth&nbsp&nbspMurila | view profile |
| Senior Librarian Asst. I | Ms.&nbspEvan&nbspL.&nbspMigita | view profile |
| Senior Librarian Asst. II | Ms.&nbspJenipher&nbspI.&nbspOsere | view profile |
| Senior Librarian Asst. III | Ms.&nbspJacqueline&nbspM.&nbspAtieno | view profile |
| Library Assistant II | Ms.&nbspIrene&nbspO.&nbspAmuko | view profile |
| Library Assistant II | Ms.&nbspIsabella&nbspM.&nbspMabeya | view profile |
| Library Assistant II | Mr.&nbspDavid&nbspO.&nbspMigan | view profile |
| Library Attendant I | Mr.&nbspTitus&nbsp&nbspKipruto | view profile |
| Library Attendant I | Ms.&nbspDiana &nbsp&nbspOngonga | view profile |
| Library Attendant I | Ms.&nbspEunice&nbsp&nbspOkewa | view profile |
| Library Attendant II | &nbspNehemiah&nbsp&nbspObado | view profile |
| Library Attendant II | Ms.&nbspSarah&nbsp&nbspChelimo | view profile |