Welcome to Jaramogi Oginga Odinga University of Science and Technology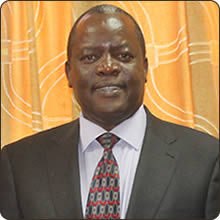 Jaramogi Oginga Odinga University of Science and Technology (JOOUST) is a centre of excellence in training, research and community outreach services offering practical and market oriented courses.
The University is a premier institution of higher learning offering relevant and quality market driven academic programmes for steering Socio-economic development. The University is strategically located at the quiet serene beaches of Lake Victoria and focuses on the development of Kenya's cultural heritage through the utilization of the vast natural resources for academic advancement and research purposes premised on improving the socio-economic status of communities.
Prof. Stephen G. Agong', PHD, FAAS - Vice Chancellor
jQuery Modules Joomla Tabs

THE 2ND COMPETITIVE GRANTS FOR POSTGRADUATE RESEARCH TRAINING
National Research Fund (NRF) is pleased to announce the 2nd National Research Call for Proposals for Postgraduate Research. The call is in line with NRF strategic response to the national goals articulated in Vision 2030 to develop a highly skilled, globally competitive human resource. NRF as established by Science Technology and Innovation Act No. 28 of
2013, is equally mandated to facilitate research for the advancement of Science, Technology and Innovation for National Development.

Support for postgraduate students is one of key strategic funding programmes NRF is contributing towards human capital development to generate adequate skilled human resource. It is envisaged this programme will significantly contribute in generating a critical mass of technical and skilled manpower, new knowledge and innovations that will culminate into effective interventions for socio-economic development.
Read more ...

NATIONAL CALL FOR PROPOSALS: 2017/2018 FINANCIAL YEAR
The National Research Fund (NRF) is a statutory body established by Science Technology and Innovation Act No. 28 of 2013. The Fund is mandated to facilitate research for the advancement of Science, Technology and Innovation (ST&I) for National Development.

NRF is pleased to announce the National Call for Research Concept Notes. The call is a strategic response to promote multi-institutional and multi-disciplinary research among national innovation delivery agencies to increase investments in research and experimental development to address societal challenges and catalyze socio-economic growth.
Multi-disciplinary and Multi-institution research teams from both public and private institutions are invited to submit Concept Notes for consideration. Proposed projects should clearly demonstrate strategies of how to address varied challenges facing the society. The objectives of submitted concept notes must be in line with national priorities expounded in the Vision 2030 with more emphasis on research which will contribute new knowledge applicable to either Universal Health Care, Food and Nutrition Security, Affordable Housing as well as Industrialization, Manufacturing and Agro-processing; the Research should also address issues under Sustainable Development Goals as well as the Science, Technology and Innovation Strategy for Africa (STISA 2024) which is the blueprint for Africa's long term Agenda 2063.
Read more ...
1. Click on the NEW link to access the login page.
You can also access it directly through: https://mail.jooust.ac.ke
2. Enter your full email address or only the username (e.g. enter This email address is being protected from spambots. You need JavaScript enabled to view it. or konyango)
3. Enter the password you were using before Friday 15th Dec, 2017 at 5p.m.
4. You have the option of changing the password or keeping the old password.
NOTE:
1. After 18th December 2017 all emails will no longer go to WEBMAIL.
2. All the Emails SENT out before 15th December 2017 will have a copy in WEBMAIL.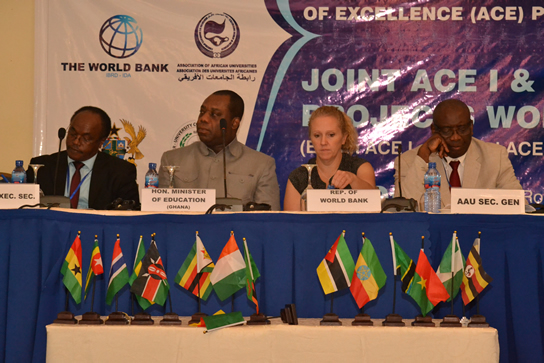 Africa Centers of Excellence meet to discuss investment in skilling graduates, research andquality ofScience and Technology education in Africa
Accra, November 07, 2017 - A joint workshop for the Africa Centers of Excellence (ACE) from ACE I and ACE II is underway in Accra, Ghana, from 7-10th November, 2017. The 22 Centers of Excellence from West and Central Africa and 24 Centers from Eastern and Southern Africa are meeting for the first time to learn from peers, and share knowledge, experiences and success stories. It's an opportunity for the 46 centers to review their progress, deliberate on the challenges and collectively come up with solutions. The workshop was officially opened by the Minister of Education, Republic of Ghana, Hon.Dr. Matthew OpokuPrempeh.
Hon. Opokusaid theCenters should be"models to drive changes that will entrench Higher Education Institutions as principal producers of knowledge that directly impact on socio-economic development," he said."This after all," he added,"is what the mission of Higher Education institutions must be about."
Read more ...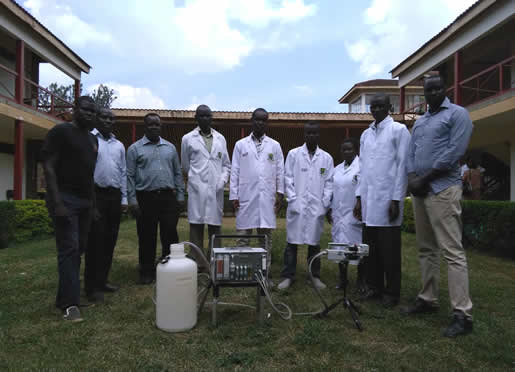 School of Biological and Physical Sciences (SBPS) organized and conducted an Infrared Gas Analysis (IRGA) training course. The training was coordinated by Prof. Dennis O. Ochuodho and was conducted by Mr. Daniel Okach from the University of Bayreuth, Germany, who has a verse experience with the equipment. Infrared gas analysis is a modern technique for quantifying the concentrations of diatomic gases. These include carbon dioxide (CO2), water (H2O) and other gases, which absorb the infrared rays. This principle has been applied in the quantification of CO2 and H2O exchange in plants and natural ecosystems. Key greenhouse gases that contribute to the current global warming can now be effectively quantified in real time. A series of equipment have been developed based on this principle and the two leading companies in this regard are the LI-COR of USA with its LI-COR 7500 and the WALZ GmbH of Germany with its GFS 3000 series.
Read more ...
The University's Africa Center of Excellence in sustainable use of insects as food and feeds held its inception workshop from the 5th-6th October 2017.The inception workshop saw the University and its international partners converge to chart a way forward on areas of collaborations and partnerships.
The workshop which was opened by the University's' Chairman of Council, Dr. Walter Ongeti saw over 10 partners and potential partners who included the ACE11 colleagues, MoiUniversity, partners,icipe, KIRDI, MMUST, JKUAT, the National Museums of Kenya, Sanergy Limited, Makerere University, Copenhagen University, Bobo-Eco Farm Uganda, Elsevier, Mammah Uganda among others.
 ,"Spend much of your valuable time in writing fundable research papers and proposals rather than wasting your precious energy in part- time teaching across Universities."This was the message to the University dons by Dr.Ongeti
Daily Nation Article: Bank funds research into edible insects
Read more ...
"DON'T CLIMB THE MATRESSES, GO FOR THE MOUNTAIN".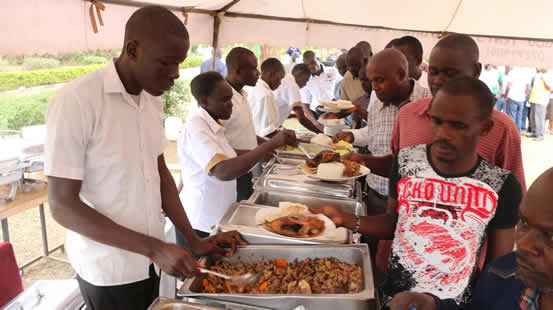 "Preserve your energy and be able to achieve the mighty task ahead which is to realize the University Goal", this was the Chairman of Council's word during a luncheon organized by the University Council at the University's Hospitality grounds.The University Council held an interactive session between University staff and Council over lunch to share and bond as a team. The event involved having lunch and getting to know each other where staff had the opportunity to meet the new council. This is the first ever meeting between JOOUST University Council and staff since the inception of the University.
The chairman of Council, Dr. Walter Ongeti, has challenged the over 500 staff members present at the luncheon to stop wasting their precious energy in little things that would affect their ultimate performance in the most needed task of building the University to its greater heights.
Read more ...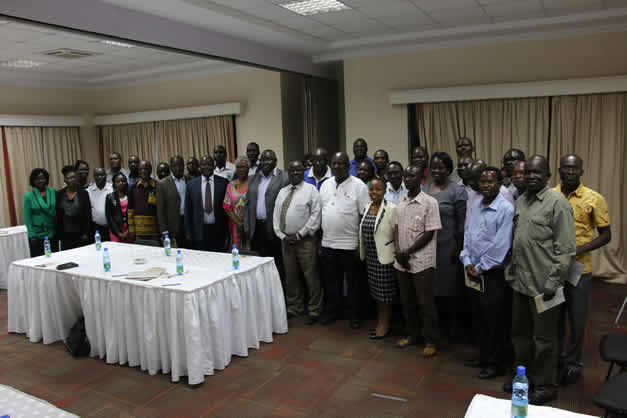 The Africa Centre of Excellence in Sustainable Use of Insects as Food and Feeds (INSEFOODS) of JaramogiOgingaOdinga University of Science and Technology is up and running even as plans are underway for the official launch of the Centre come early October 2017.
The planning committee for the launch met at theVittoriaSuittes Hotel in Kisumu to make the necessary arrangements that would ensure success in the long awaited launch.
JOOUST has earned its space in the world map as a University of Excellence that is committed to ensuring sustainable food security within the region and beyond. Through her committed researchers, the University has a niche in promoting use of Insects not only as human food but also as feeds for livestock. The University is one of the 3 ACE II projects in Kenya funded by the World Bank to run for 5 years.
Read more ...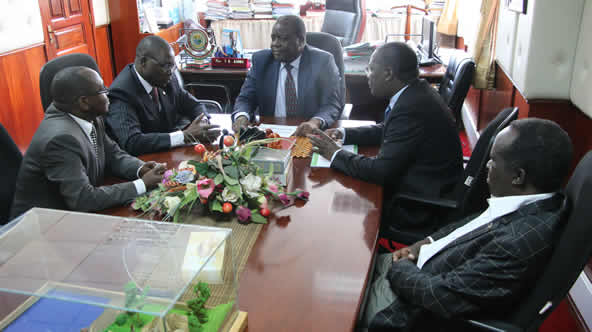 The Division of Research, Innovation and Outreach organized a one day seminar to sensitize staff on the processes and procedures for protection and maintenance of Intellectual Property Rights (Innovations, Patents and Commercialization research results).
Sixty senior members of the University were trained by resources persons from the Kenya Industrial Property Institute (KIPI) who included Mr. SylvanceSange, Managing Director, KIPI as well asMr. Paul Chege who is an Intellectual Property Rights Officer.
Read more ...
JOOUST Medical Insurance Service Provider 2017 - Trident Panel Download

Africa Center of Excellence in Sustainable use of Insects as Food and Feeds - PDF
JOOUST selected for World Bank funding
POSTGRADUATE FORMS
| | |
| --- | --- |
| APPLICATION AND REFEREE FORMS | View |
| BI-ANNUAL REPORT FORM | View |
| INTER COURSE, SCHOOL TRANSFER FORM | View |
| MONTHLY CONSULTATION FORM DEC 2012 | View |
| NOTICE OF INTENTION TO DEFEND A MASTER | View |
| PROPOSAL DEFENCE NOTICE FORM | View |
| STUDENT COURSE REGISTRATION FORM MARCH 2013 | View |
Free Joomla Tabs Component
Free Accordion Module