Welcome to Jaramogi Oginga Odinga University of Science and Technology
Jaramogi Oginga Odinga University of Science and Technology (JOOUST) is a centre of excellence in training, research and community outreach services offering practical and market oriented courses.
The University is a premier institution of higher learning offering relevant and quality market driven academic programmes for steering Socio-economic development. The University is strategically located at the quiet serene beaches of Lake Victoria and focuses on the development of Kenya's cultural heritage through the utilization of the vast natural resources for academic advancement and research purposes premised on improving the socio-economic status of communities.
Prof. Stephen G. Agong', PHD, FAAS - Vice Chancellor
jQuery Modules Joomla Tabs
(CONSULTING SERVICES-SELECTION BASED ON THE CONSULTANTS' QUALIFICATIONS)
NAME OF THE PROJECT: EASTERN AND SOUTHERN AFRICA HIGHER EDUCATION CENTERS OF EXCELLENCE PROJECT (ACE II)
LOAN N0. / CREDIT N0. / IDA GRANT NO: D1150-3E
PROJECT ID: P151847
ASSIGNMENT TITLE: INDEPENDENT VERIFIER OF DISBURSEMENT LINKED INDICATORS AND RESULTS (DLIS/ DLRS)
PROCUREMENT REFERENCE NO: IUCEA/PROC/CONS/16-17/005
Download Advert: REOI
Read more ...
The University played host to its 3rd disability day that saw people with different disabilities interacting with each other as they entertained guests and fellow colleagues. The event which took place at the University sports pavilion saw both the young and the old mingle as they celebrated their different talents and abilities.
 The hugely successful event was officially opened by the Director, National Council of Persons with Disabilities, Hon. Mohammed Gabbow. While giving his remarks, he noted that the directorate was willing to work with Institutions that have a willingness to accommodate the "differently-abled" members of the society through practicable solutions that make their daily operations effortless.
Read more ...
Jaramogi Oginga Odinga University of Science and Technology participated in the Universities Exhibition at the Catholic University of Eastern Africa Feb 28th to March 2nd 2017. These are innovations by Jooust students.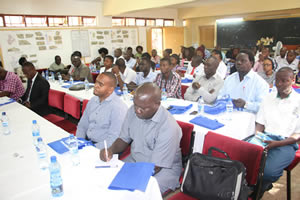 The University in collaboration with the Regional Centre for Mapping of Resources for Development (RCMRD) has signed a memorandum of understanding on cooperation and consultation. The aim of the MOU is to foster the application of geospatial information and technology.
This collaboration culminated into training for both students and staff to create awareness on GIS data availability that can be freely accessed for diverse application in teaching, research and outreach. The workshop was aimed at increasing the number of potential GIS data users at JOOUST, adopting geospatial technologies through promotion by RCMRD to JOOUST community for improved uptake and improving GIS data access by providing platform to RCMRD to explain and demonstrate access protocol and user access rights for their GIS data.
Read more ...
By Isaiah Gwengi | Sunday, Dec 18th 2016 at 10:43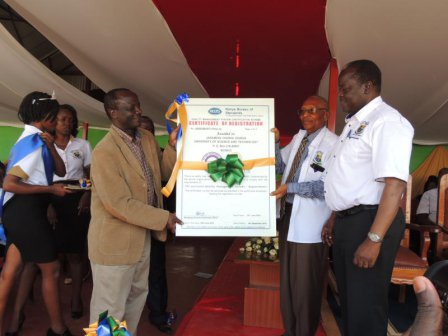 Jaramogi Oginga Odinga University of Science and Technology has unveiled a five-year development plan seeking to elevate the institution to a centre of excellence.
Speaking during the 2016-21 Strategic Plan, Vice Chancellor Prof Stephen Agong' said that with the implementation of the ambitious plan and ISO re-certification, the institution is ready to conform to requirements of the Vision 2030.
"The ISO re-certification is expected to help us realise our mission and vision set to give us an opportunity to compete with other institutions, not only in Kenya but globally," said Agong'.
Read more ...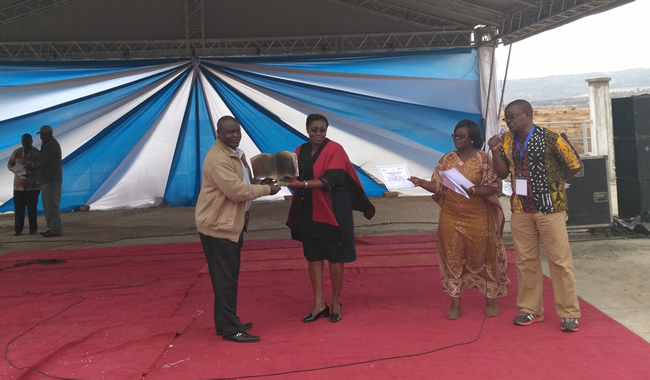 Jaramogi Oginga Odinga University of Science and Technology was awarded top position in the Educational Institutions Category during the just concluded UNESCO National Cultural Celebrations held at the Machakos People's Park, Machakos County from the 1st to 3rd September , 2016.
Receiving the award was the Coordinator Institute of Cultural Heritage and Material Science, Dr Isaya Onjala said that the Institute displayed the cultural diversity of the community surrounding the University and how the University promotes and appreciates various cultural backgrounds. The award was awarded by Dr. Evangeline Njoka, CEO and Secretary General Kenya National Commission for UNESCO (KNATCOM).
Read more ...
The Staff of Jaramogi Oginga Odinga University of Science and Technology have had an opportunity to stretch their muscles freely out of their offices as they came together on an organized staff wellness day at the University's sports ground.
Read more ...
Jaramogi Oginga Odinga University of Science and Technology in collaboration with Arizona State University, Engineers without borders Chapter partnered to construct a hydraulic laboratory. The laboratory will be used for training, research and outreach.
Read more ...
JOOUST Staff health providers Download

Africa Center of Excellence in Sustainable use of Insects as Food and Feeds - PDF
JOOUST selected for World Bank funding
POSTGRADUATE FORMS
| | |
| --- | --- |
| APPLICATION AND REFEREE FORMS | View |
| BI-ANNUAL REPORT FORM | View |
| INTER COURSE, SCHOOL TRANSFER FORM | View |
| MONTHLY CONSULTATION FORM DEC 2012 | View |
| NOTICE OF INTENTION TO DEFEND A MASTER | View |
| PROPOSAL DEFENCE NOTICE FORM | View |
| STUDENT COURSE REGISTRATION FORM MARCH 2013 | View |
Free Joomla Tabs Component
Free Accordion Module